01 June Current Affairs
TEXTILES EXPORTS
India scaled its highest ever exports tally at US$ 44.4 Bn in Textiles and Apparel (T&A) including Handicrafts in FY 2021-22, indicating a substantial increase of 41% and 26% over corresponding figures in FY 2020-21 and FY 2019-20, respectively.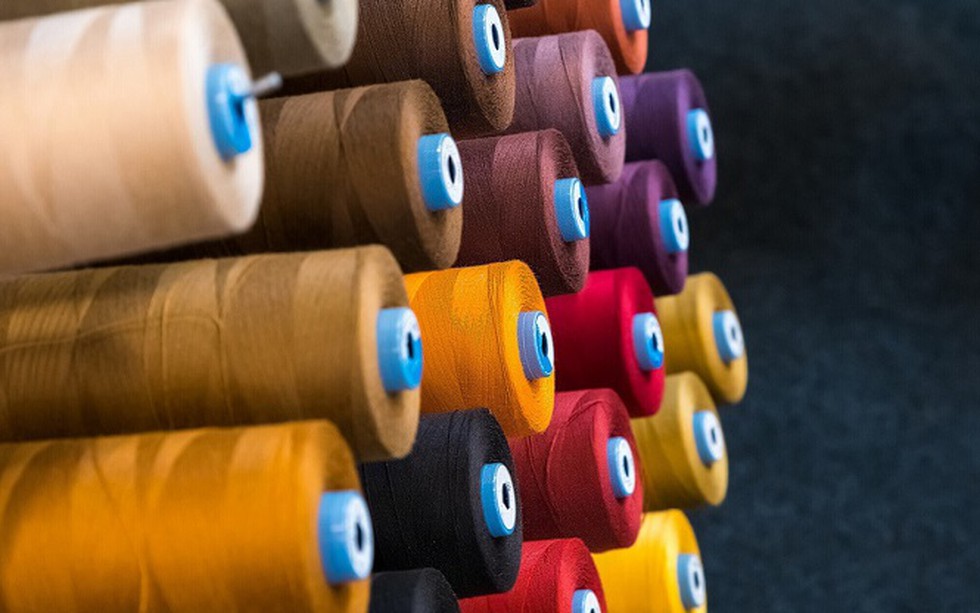 About:
USA was the top export destination accounting for 27% share, followed by EU (18%), Bangladesh (12%) and UAE (6%).
In terms of product categories, the export of cotton Textiles was US$ 17.2 Bn with 39% share registering a growth of 54% and 67% during 2021-22 over FY 2020-21 and FY 2019-20, respectively.
Export of Ready-Made Garments was US$ 16 Bn with 36% share showing a growth of 31% and 3% during 2021-22 over FY 2020-21 and FY 2019-20, respectively.
Man-made textiles export was US$ 6.3 Bn with 14% share which shows a growth of 51% and 18% during 2021-22 over FY 2020-21 and FY 2019-20, respectively.
Export of Handicrafts was US$ 2.1 Bn with 5% share reporting a growth of 22% and 16% during 2021-22 over FY 2020-21 and FY 2019-20 respectively.
NTPC RELEASES BIODIVERSITY POLICY
NTPC Ltd, India's largest integrated energy producer has issued renewed Biodiversity Policy 2022 to establish a comprehensive vision and guiding principle for conservation, restoration, and enhancement of biodiversity.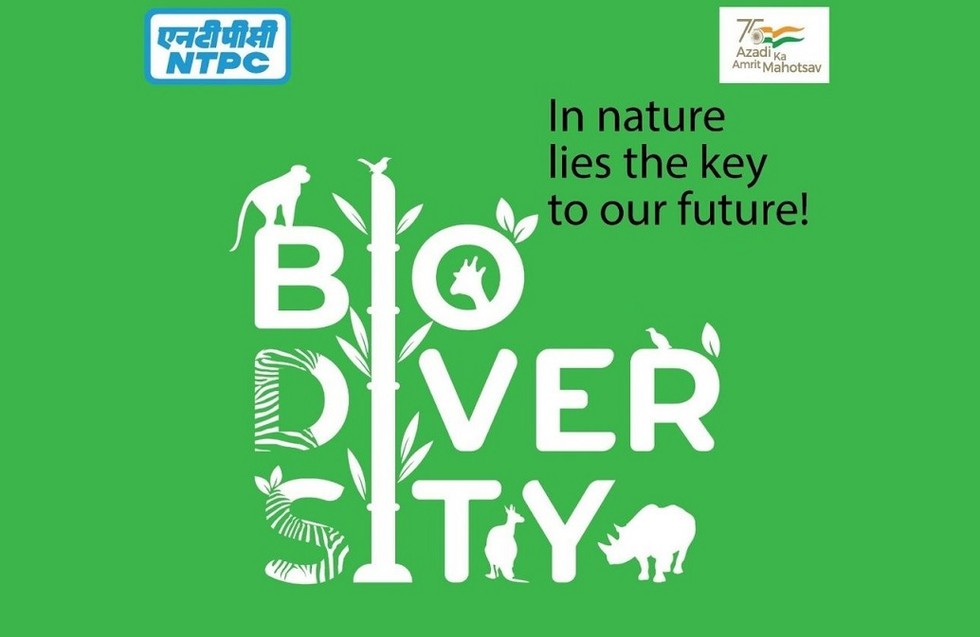 About:
This Biodiversity Policy is an integral part of NTPC's Environmental Policy.
NTPC was the first PSU to issue Biodiversity Policy in 2018. In the same year, NTPC became a member of the India Business & Biodiversity Initiative (IBBI).
The power major aims to mainstream the concept of biodiversity across NTPC's value chain.
The company will further strengthen its current efforts to achieve a 'no net loss' of biodiversity at all of its currently operating sites.
NTPC has also signed a five-year agreement with Andhra Pradesh Forest Department for conservation of Olive Ridley Turtles in the coastline of Andhra Pradesh.
ASTRA MK-I BVRAAM
Ministry of Defence has signed a contract with Bharat Dynamics Limited (BDL) for supply of ASTRA MK-I Beyond Visual Range (BVR) Air to Air Missile (AAM) and associated equipment for the Indian Air Force & Indian Navy at a cost of Rs 2,971 crore under Buy (Indian-IDDM) category.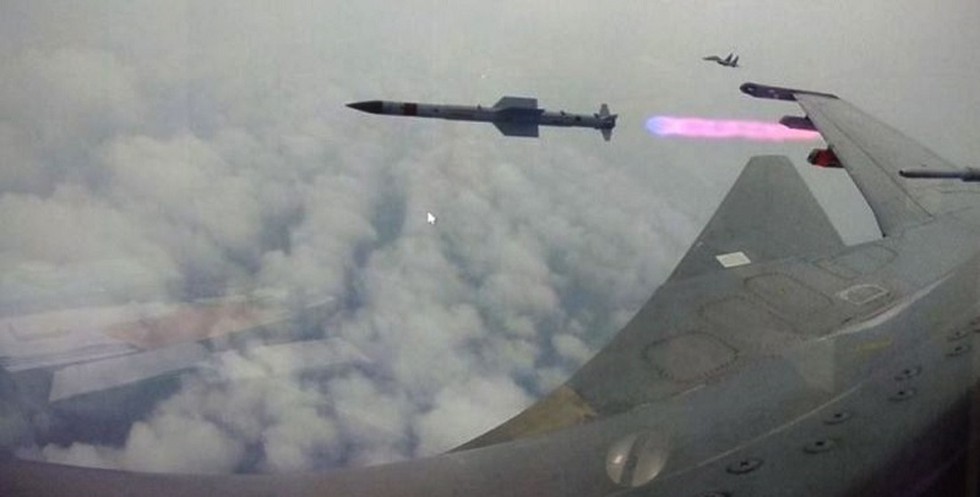 About:
Till now, the technology to manufacture missile of this class indigenously was not available.
ASTRA MK-I BVR AAM has been Indigenously Designed & Developed by Defence Research and Development Organisation (DRDO) in coordination with the Indian Air Force (IAF).
Air to Air missile with BVR capability provides large Stand Off Ranges to own fighter aircraft which can neutralise the adversary aircraft without exposing itself to adversary Air Defence measures, thereby gaining & sustaining superiority of the Air Space.
This missile is technologically and economically superior to many such imported missile systems.
The missile, for which successful trials have already been undertaken by the IAF, is fully integrated on the Su 30 MK-I fighter aircraft & will be integrated with other fighter aircraft in a phased manner, including the Light Combat Aircraft (Tejas).
The Indian Navy will integrate the missile on the MiG 29K fighter aircraft.
GST COMPENSATION
The Centre paid the entire amount of Goods and Services Tax (GST) compensation due to States up to May 31 by releasing an amount of ₹86,912 crore. The payment included a contribution from its own c offers beyond the ₹25,000 crore balance in the GST Compensation Fund.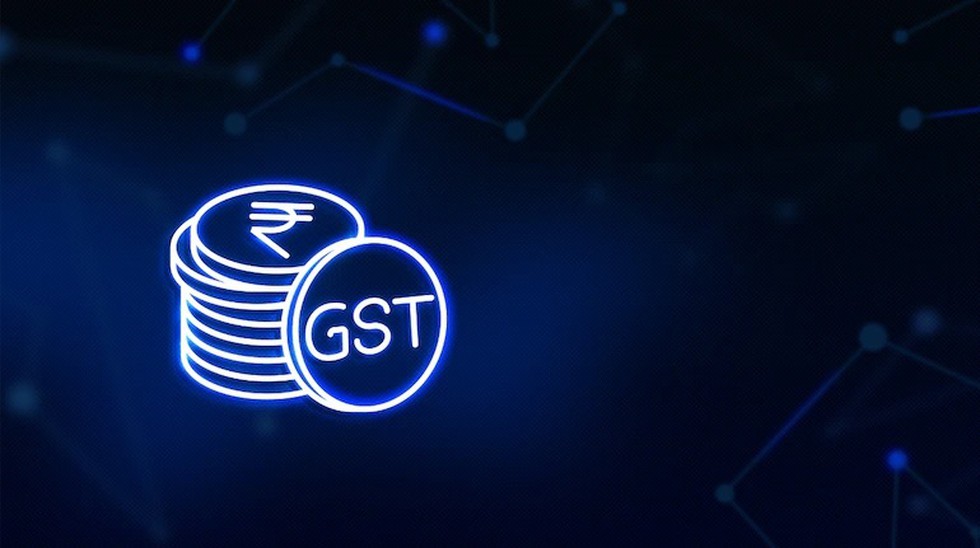 About:
This was being done to assist States in managing their resources and ensuring that their programmes, especially entailing capital expenditure, could be implemented successfully during the financial year.
As a result, the States were now only owed GST compensation for one month — June 2022. States had been guaranteed a certain level of revenue for the first five years of the GST regime, which was introduced in 2017.
This decision has been taken despite the fact that only about ₹25,000 crore is available in the GST Compensation Fund.
The balance is being released by the Centre from its own resources pending collection of cess. The Compensation Cess is levied over and above the peak 28% rate on luxury or 'sin' goods, including cars.
FISCAL DEFICIT
Fiscal deficit improved to 6.71% of the FY22 GDP over the revised budget estimate of 6.9% mainly on account of higher tax realisation.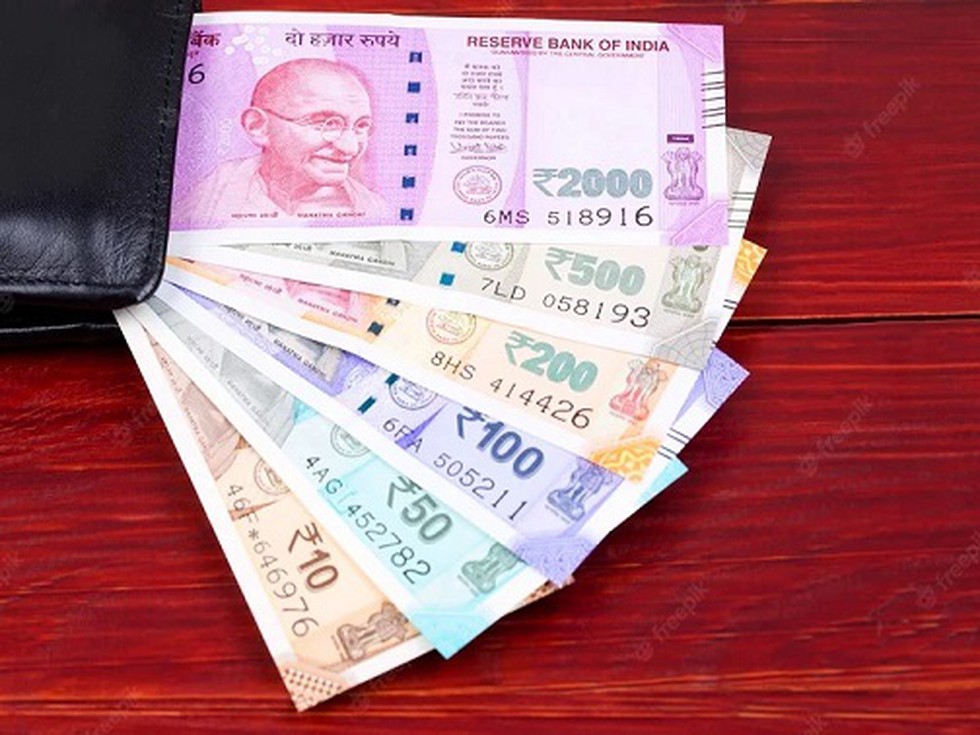 About:
Unveiling the revenue-expenditure data of the Union government, the Controller General of Accounts (CGA) said that the fiscal deficit in absolute terms was ₹15,86,537 crore (provisional).
Tax receipts during the fiscal were at ₹18.2 lakh crore as against the revised estimates (RE) of ₹17.65 lakh crore, the data showed.
Total expenditure too was higher at ₹37.94 lakh crore against the RE of ₹37.7 lakh crore presented to Parliament on February 1, 2021. The CGA further said the revenue deficit at the end of the fiscal was 4.37% for fiscal year 2021-22.
The fiscal deficit of the Centre was contained marginally below the FY22 revised estimate, benefitting from the higher tax and non-tax revenue receipts and lower capital spending, which absorbed the deficit in non-debt capital receipts and higher revenue expenditure.
WORLD SUMMIT ON THE INFORMATION SOCIETY (WSIS) FORUM 2022
Union Minister for Communications attended the opening ceremony of World Summit of Information Society (WSIS) 2022, being organized by International Telecommunications Unions(ITU) at its headquarter in Geneva, Switzerland from 30th May to 3rd June, 2022.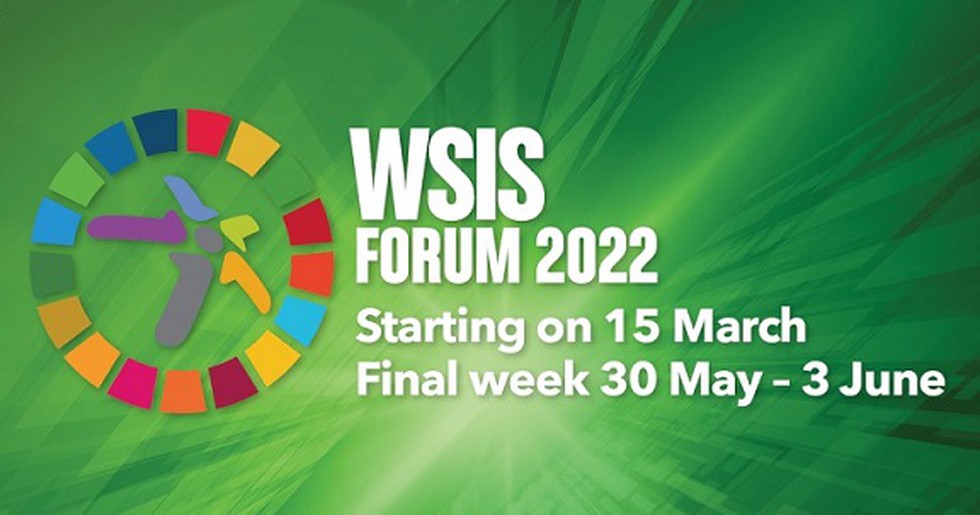 About:
The participation comes with India contesting the re-election to the ITU Council, for the term 2023-2026. India has been a member of ITU, since 1869 and has been continuously participating, actively in the works, and activities of the Union.
The World Summit on the Information Society Forum 2022 represents the world's largest annual gathering of the ICT for development community.
The WSIS Forum 2022 started from 15 March onwards in a virtual format with the final week being held physically with enhanced remote participation from 30 May to 3 June 2022 at the ITU Headquarters in Geneva, Switzerland.
Theme for this year is ICTs for Well-Being, Inclusion and Resilience: WSIS Cooperation for Accelerating Progress on the SDGs.
The WSIS Forum is co-organized by ITU, UNESCO, UNDP and UNCTAD, in close collaboration with all WSIS Action Line Facilitators/Co-Facilitators.
AADHAAR & PRIVACY
Two days after issuing an advisory asking people to refrain from sharing photocopies of their Aadhaar Card, the Unique Identification Development Authority of India (UIDAI) opted to withdraw the notification.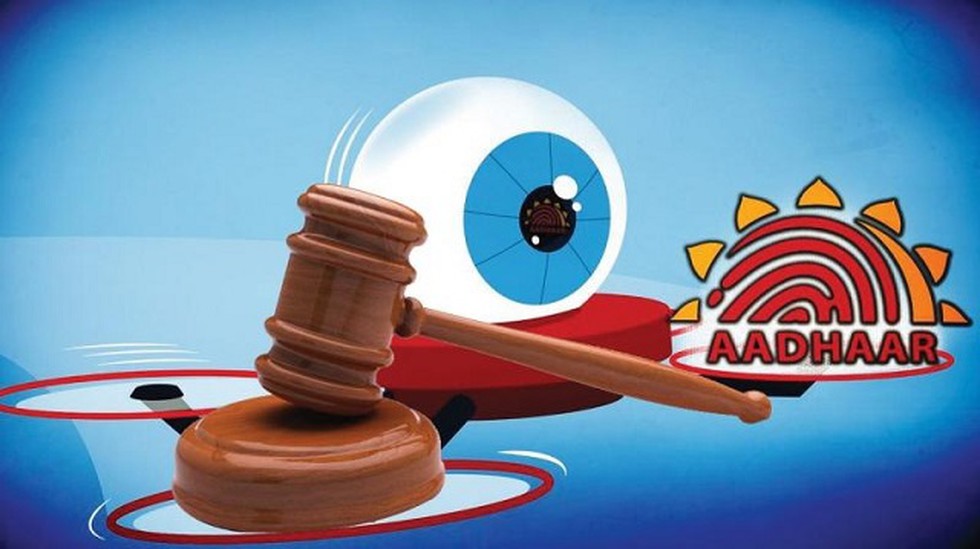 About:
It stated that the action was to avert any possibility of 'misinterpretation' of the (withdrawn) press release, asking people to exercise "normal prudence" in using/sharing their Aadhaar numbers.
The Aadhaar (Targeted Delivery of Financial and Other Subsidies Benefits and Services) Act, 2016 states that Aadhaar authentication is necessary for availing subsidies and services that are financed from the Consolidated Fund of India.
However, confidentiality needs to be maintained and the authenticated information cannot be used for anything other than the specified purpose.
The NPCI's Aadhaar Payments Bridge (APB) and the Aadhaar Enabled Payment System (AEPS) facilitate direct benefit transfer (DBT) and allow individuals to use Aadhaar for payments. This requires bank accounts to be linked to Aadhaar.
But more than 200 central and State government websites publicly displayed details of some Aadhaar beneficiaries such as their names and addresses.
This means that this data could be potentially used to fraudulently link the rightful beneficiary's Aadhaar with a distinct bank account, embezzling the beneficiary by impersonation.
TALIBAN
A new report from the Analytical Support and Sanctions Monitoring Team of the United Nations Security Council (UNSC) says that foreign terrorist organisations continue to enjoy safe haven under the Taliban regime.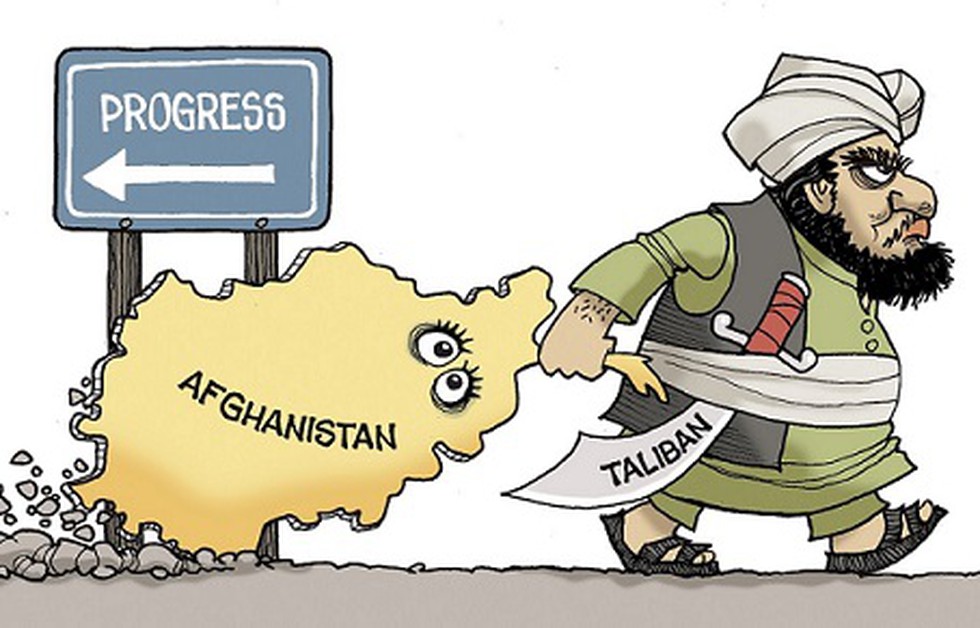 About:
It adds that the terrorist groups are not likely to launch major attacks outside Afghanistan before 2023. Two India-focussed terrorist groups, Jaish-i-Mohammed (JiM) and Lashkar-e-Taiba (LeT), are reported to have training camps in Afghanistan.
Tehreek-e-Taliban Pakistan (TTP) constitutes the largest component of foreign terrorist fighters in Afghanistan, with their numbers estimated at 3,000-4,000.
Analytical Support and Sanctions Monitoring Team of UNSC
The monitoring team assists the UNSC sanctions committee. India is currently the chair of the sanctions committee, which comprises all the 15 UNSC members.
Its report, circulated among committee members, informs the formulation of UN strategy in Afghanistan.
This report — the 13th overall — is the first since the Taliban returned to power in August 2021.
INDIA'S GDP GROWTH
India's gross domestic product (GDP) growth slowed to a four-quarter low of 4.1% during the January-March period, from 5.4% in the preceding quarter, as manufacturing output shrank, provisional national income estimates show.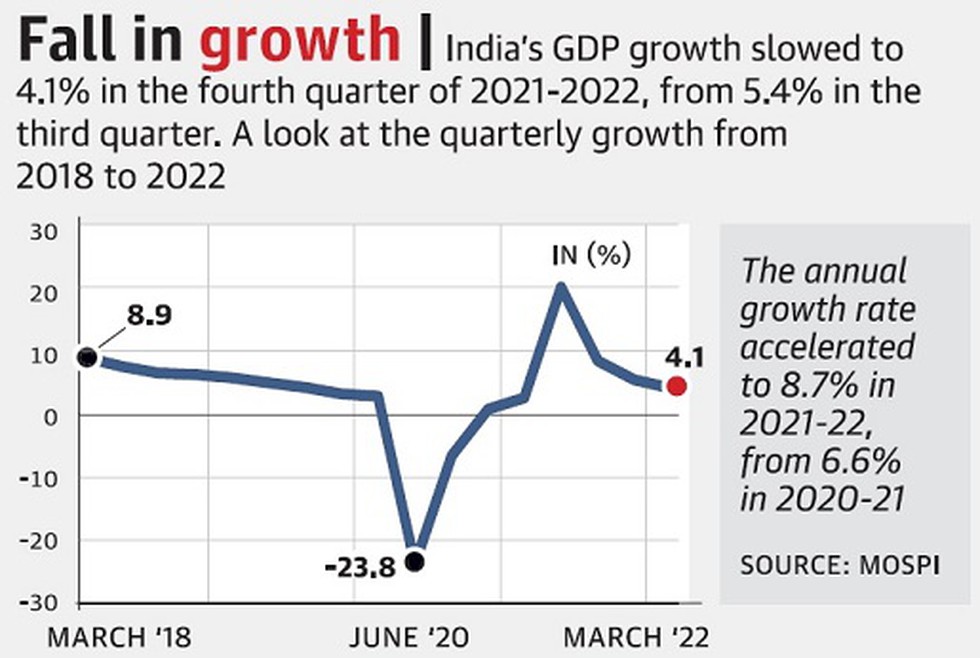 About:
As a result, full-year growth came in at 8.7% — a tad lower than the 8.9% pace projected in February. Gross Value-Added (GVA) in the economy is estimated to have grown 8.1% in 2021-22, slightly lower than the 8.3% projected by the National Statistical Office (NSO) earlier.
The GDP had shrunk 6.6% in 2020-21, while the GVA had contracted 4.8% in the wake of the COVID-19 lockdowns.
The Finance Ministry said the latest national income estimates 'establish full economic recovery' as real GDP in 2021-22 exceeded the pre-pandemic levels of 2019-20.
The contact-dependent and employment-intensive trade, hotels, transport, communication & services related to broadcasting sector continued to languish below pre-pandemic levels, ending FY22 still 11.3% lower than 2019-20 GVA levels.
Astra Mk-1 air-to-air missile — features, strategic significance
In News:
The Ministry of Defence recently announced that it has signed a contract with the Hyderabad-based public-sector Bharat Dynamics Ltd. for supply of the Astra Mark-1, air-to-air missile.
What's in today's article:
About Astra Mark-1 (Specifications, Purpose, Significance, etc.)
Key Facts for Prelims (What is Mach speed)
About Astra Mark-1: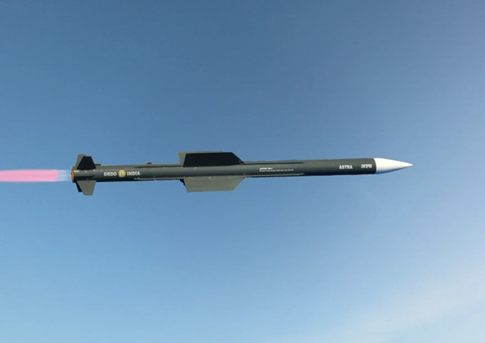 The Astra Mk-1 is a beyond visual range (

BVR)

, air-to-air missile (AAM).

BVM

missiles are capable of engaging beyond the range of 20 nautical miles or 37 kilometres.

AAM

s are fired from an airborne asset to destroy an airborne target.

Astra project was officially launched in the early 2000s and around 2017, the development phase of Mk-1 version was complete.
The missile is fully integrated on the Sukhoi 30 MKI I and will be integrated with other fighter aircraft in a phased manner, including Tejas and the Mig-29K of the Navy.
Designed and developed by: Defence Research and Development Organisation
Range: 110 Km
Speed: In excess of Mach 4
Significance:
Push for Atmanirbhar Bharat:

The Ministry of Defence said that until now, the technology to manufacture missiles of this class indigenously was not available.
The Ministry said the transfer of technology from DRDO to Bharat Dynamics Ltd. will create opportunities for several MSMEs in aerospace technology for at least 25 years.
More than 50 private and public industries, including the IAF and Hindustan Aeronautics Limited (HAL), have contributed in building the Astra systems.

Strategic Significance:

The missile has been designed based on requirements specified by the IAF for BVR as well as close-combat engagement, reducing the dependency on foreign sources.
AAMs with BVR capability provides large stand-off ranges to fighter aircraft which can neutralise adversary airborne assets without exposing themselves to adversary air defence measures.

Stand-off range

means the missile is launched at a distance sufficient to allow the attacking side to evade defensive fire from the target.

The MoD has said that Astra is technologically and economically superior to many such imported missile systems.
Key Facts for Prelims:
Mach Speed

:

The Mach number describes the aircraft's speed compared with the speed of sound in air, with Mach 1 equating to the speed of sound.
It is named after

Ernst Mach

, an Austrian physicist, who first devised the measurement.